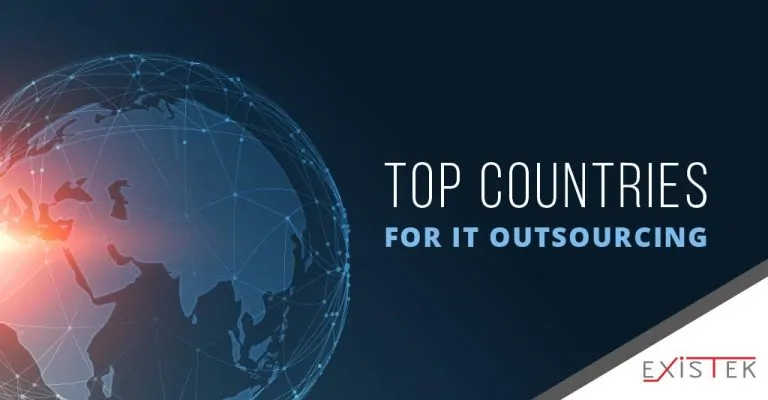 December 1, 2019
Сarring on a tradition, we release a list of top IT outsourcing countries in 2020. Fortunately for those who considering programming outsourcing, the list is constantly growing and full of worthy contenders. All you have to do is to check this blog post and make the best choice out of your particular requirements and business goals.
List of the content:
WHY DO COMPANIES OUTSOURCE?
In order to give a clear picture of the situation, we will start with the current state of the IT jobs market. The software outsourcing development industry is growing by a number of reasons. Companies need highly competent IT specialists that are proficient in innovative technologies ready to apply them. Finding them appears not that easy for a lot of businesses. The demand for fresh blood connected with more complicated technology is considerably increased in the USA, Canada, and Western Europe.
The US Bureau of labor statistics data shows: software development is among the most demanded professions and is on the top of the median earnings. Source: Bls.gov
---
These countries are facing a lack of workforce, while the available specialists increased the service prices. This is where software outsourcing development companies step in. In 2020 it is not just an additional workforce or saving your budget, it is about developing your business by new high-quality approaches.
Which countries pay the highest salaries for software engineers?
The software development sphere influences the growth of job volume and specialist wages at the same time. The Bureau of Labor Statistics anticipates the employment growth of 26% by 2028 in the USA. About 284,100 IT jobs are expected to be opened up during this period. Thus we observe the increase of wages in the IT sphere. Listed jobs make the average annual wages: Computer Programmers – $87,530; Computer Systems Analysts – $92,740; Software Developers – $106,710; Computer Network Architects – $107,870; IT Managers – $149,730. This is the growth of approximately 3% while the general U.S. wage growth is 1,8%. We should not forget about such factors as a specialty, education, employers, and regions. It is no surprise that metropolitan cities position themselves as best-paid regions. Cities like $147,590 (San Francisco, California), $133,810 (Seattle, Washington), and $132,170 (San Jose, California) are among the most expensive places to hire a software developer in an entire world.
Increased IT budgets
Software providers should be also aware of constant IT spending growth. They take into account all expenses on up-to-date technologies, better customer experiences, security, management of the businesses. When you compare the growth of worldwide IT spending in billion U.S. dollars, you will get the following results: 2015 – $1995,7 billion, 2016 – $2040,1 billion, 2017 – $2109,5 billion, 2018 – $2185,3 billion, 2019 – $2254,5 billion and 2020 – $2328,1 billion according to Statista.
Since spendings grow constantly every year, the market needs thousands of skilled developers of various technologies.
2020 IT spending growth forecast. Source: Statista.com
---
This demand outgrows the supply of qualified specialists for certain technologies while some of the languages and frameworks are lagging behind. The market requires the new developer types, and even applies re-training schemes. The software engineering labor market has shifted. We can observe that, because now companies are eager to find more ReactJS, Docker, and System Administration specialists. On the other hand, people with AJAX, WordPress, jQuery expertise will likely experience difficulties with finding their next job. IT companies prefer to improve all the time and apply only the best and effective technologies. Some of them sharply decrease in the usage and other ones can be completely overturned.
Which developers get paid the most?
According to the 2017 StackOverflow "Developers hiring trends" report, there is an advancing focus on mobile software development. iOS and Android are on high demand these years. Companies are looking for developers for both platforms.
Another demand is on database administration and development. DBA (MySQL and SQL server) technologies are greatly required for a lot of positions.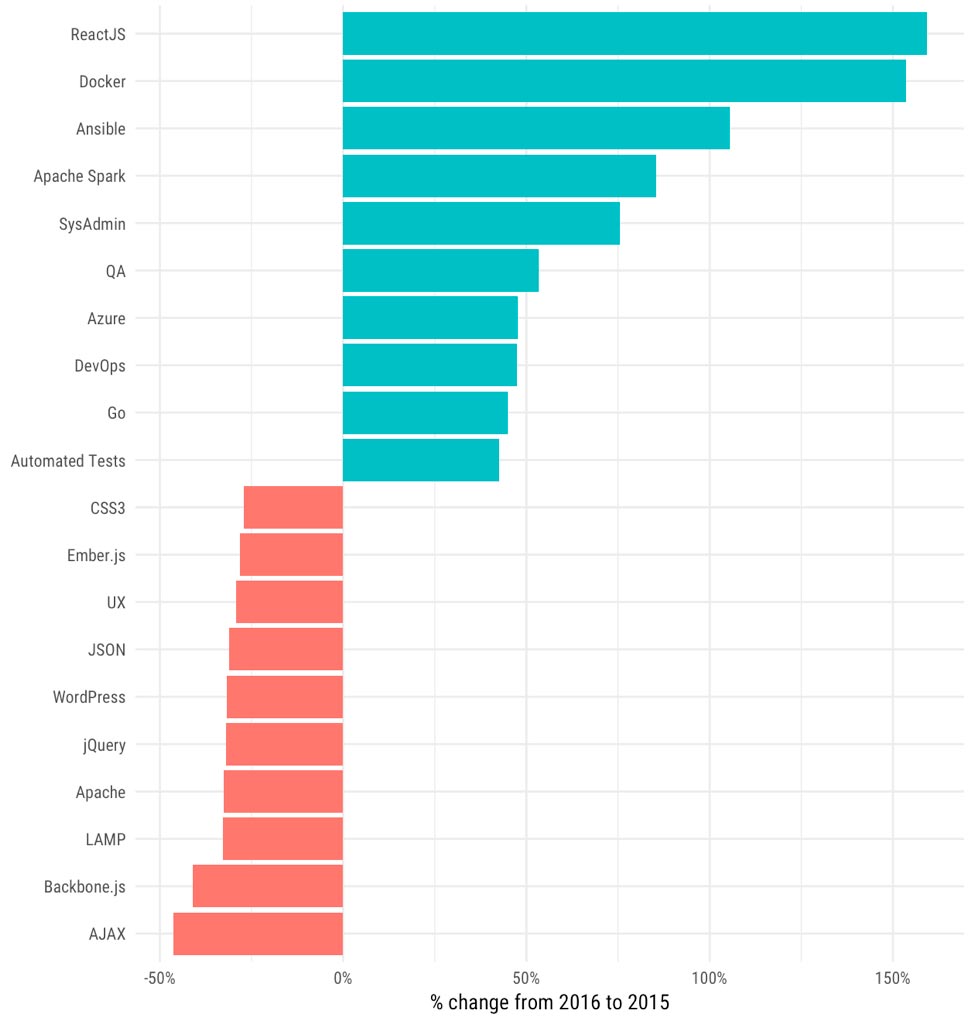 Changes in demand for different IT specialties. Source: Stack Overflow
---
Web developers deal with the number of technologies. Employers look for both Back and Front End Web developers. The development of new technology constantly increases employment demand. Companies are looking for highly-competent and talented developers.
Where is software outsourcing development most popular?
Taking into account all these factors, the IT job market is open for skilled employees. In the past years, developed countries face the lack of a qualified workforce. They try to adopt various strategies to find new professionals. The USA, Canada, and Western Europe are encouraging the employees not only with the great wages but various training and apprenticeships. IT market is one of the most competitive in the last decades. The unemployment rate is listed in the lowest positions. For example, the U.S. software engineers' unemployment rate of 4% in 2011 has declined to 1.9% in 2017. Thus the developed countries started the search for the new pool of skilled employees. Now they are cooperating with the best countries to outsource software development on regular bases. They found the supply of workers, new available approaches for managing their projects and saving their budgets. Programming outsourcing is the golden opportunity to improve the business and a lot of companies are already benefiting from it.
TOP REGIONS FOR PROGRAMMING OUTSOURCING
If you look for outsourcing developers, you definitely have a great choice. IT outsourcing companies have provided services for a few decades. Outsourcing destinations are usually divided by the geographical location of the companies. However, they are characterized by other criteria. Qualification and language requirements, cultural similarity, time difference, service costs are usually considered while applying for programming outsourcing. Let's have a quick look at top outsourcing destinations.
Eastern Europe
This destination has entered the market with a great number of offers. Eastern European companies provide highly-competent outsourcing developers who can deal with innovations. Their experts are known for high-quality education and a good level of English. Services can be provided full-time due to the convenient geographical location. And you can also decrease expenses on business trips. The time difference is not that big, as for Western Europe is only a few hours. The culture is closely matched to the Western one. Governments support IT sphere development. It might seem a relatively expensive destination for service prices.  Hourly rates of outsourcing developers in Eastern Europe range between $20 and $60. But on the other hand, you will cooperate with the professionals who provide the best possible quality of the services. Eastern Europe is producing the top IT specialists in the world. The destination became popular not only for Western Europe but also Canada and the USA.
Asia and the Middle East
This destination is one of the first providers of programming outsourcing. The geographical location is not that convenient, the time difference is quite bigger. Certain companies are interested in receiving services by the cheapest price rates but still taking risks. Indian developers offer service prices of $10-25/hour when Chinese ones can amount to $30-40/hour. The unstable economic and political situations of these regions can also influence your business. You can deal with the established IT players or new entrants. The number of outsourcing developers is one of the biggest compared with other destinations. Still-improving English can be important criteria. Some companies have failed the communication establishment. Eastern mindset is totally different from the European one.
Latin America
Latin America is a relatively new entrant of programming outsourcing. This destination became the most attractive for US customers. It is really convenient for Northern American companies due to the fact of geographical proximity and time difference. It allows collaborative approaches for the benefits of both sides. Sometimes prices for services might be lower than European ones. Latin American hourly rates can vary from $20 to $50. The IT sphere goes through the state of development. This brings all the disadvantages that are related to the immature business processes and lack of technical skills. At the first look, this is not that important, but almost half of the IT project didn't make it to the launch either because of the budget overburn either because of being non-viable from the technical side, All this because of the poor management and the insufficient technical knowledge. So if you don't accept anything less than perfection from the standpoint of execution and timeframe – it may be worth it to look at other destinations like Malaysia or Ukraine  
Nevertheless, Latin America countries are recommending themselves as a new destination for the top IT outsourcing countries. Though a relatively low English level and the cultural difference might cause some inconveniences.
Table of overlapping working hours
There are a lot of the various factors when comparing the best outsourcing countries, like politic situation, English language skills level, average price, etc. Some of them are very subjective and vary from country to country even within the same region. But there is one factor that is very easy to determine and very important at the same time. In the market study above we have determined that the US and Western Europe are the main consumers of IT outsourcing services. Thus, this list of top IT outsourcing countries can't be all-encompassing without the table with the comparison of how much overlapping working hours each of the outsourcing regions has with North America and Western Europe.
| Region | Eastern Standard Time (EST) | Central European Time (CET) |
| --- | --- | --- |
| Eastern Europe (Eastern European Time, EET) | 4 hours | 9 hours |
| Asia (India Standart Time IST) | 2 hours | 3 hours |
| Latin America (Mexico, CST) | 8 hours | 3 hours |
TOP IT OUTSOURCING COUNTRIES IN EASTERN EUROPE
Ukraine
Ukraine has already attained the position of the country with the fastest developing IT sector. It is known for the well-educated IT experts and numerous technologies they deal with. The advancing growth of the IT industry opens new opportunities and a good choice for customers. The amount of developers increases each year. It almost reaches the number of 105,000. Ukrainian outsourcing companies are constantly improving cooperation approaches and services quality.
---
"Want to know more about outsourcing to Ukraine? Read our article dedicated to outsourcing software development rates in Ukraine and what advantages you will gain working with dedicated development teams there."
---
Ukrainian developers are often the participants of various IT conferences and trainings. Efficiency is vastly improved throughout the companies. The center of the industry concentrated in the capital of Ukraine, Kyiv. As one of the top IT outsourcing countries, Ukraine combines reasonable hourly rates between $20-$45/h and superior quality of work.
Poland
Poland develops the IT industry as one of the general branches of the Polish economy. The EU economy grows fast and increases the need for the workforce, so Poland often is the first place considered by the European companies in their search for the top IT outsourcing countries and Poland eagers to fulfill that high demand. It offers the biggest number of working places in Central Europe because over 118,000 IT specialists work here. They apply various technologies and specialize in outsourced and hardware design services. Companies have the experience for a few decades. Most of them are located in Warsaw and Krakow.
Poland offers some of the best services and operates inside the EEA economic zone, which is very convenient. However, that convenience comes at a cost and Poland is by far one of the most expensive IT outsourcing destinations in this list.
Belarus
Belarus is another representative of top IT outsourcing companies in 2020, included in industry reports by IDC and Gartner. Actually, half of their developers are involved specifically in outsourcing. The government significantly supports the IT industry. It discharged from taxation the residential IT companies. The number of specialists reaches 30,000. Companies encourage hiring well-educated and skilled employees. IT development greatly contributes to the national economy. Companies are open to cooperation. Belarus capital, Minsk, is the place of residence for IT development activities. This location offers competitive rates between $20 – $40/h which makes it very attractive. However, taking into consideration the relatively low number of IT specialists, when compared to other contenders of the best outsourcing countries list, it takes a bit longer to launch mid-sized and large projects there.
Bulgaria
Bulgaria is recognized as an increasingly attractive choice for many businesses. It is a great competitor in the outsourcing market. They provide an educated and motivated workforce. More than 40,000 specialists are employed in the industry. The services are applied for multinational and local customers at the average rates between $30 – $60/h The capital city, Sofia is the center of IT life. Bulgaria is concentrated on developing new service strategies by uniting national IT strengths.
TOP IT OUTSOURCING COUNTRIES IN ASIA
India
India has occupied its position among top IT outsourcing countries 2020. The country is working in this direction for more than 25 years. Programming outsourcing is the mature industry of India. It owns a huge pool of IT specialists. Leading services evolve service offers and expand the traditional ones. Customers are usually offered reasonable and one of the lowest prices. Cultural compatibility, technical skills, and business process organization are still might be the issue even after all those years in some situations. Yet, some of the finest Indian software companies can deliver excellent results. However, they might lose the huge gap between their and other countries pricing, since quality naturally requires the best and the most expensive software developers.  
China
China aims to improve both business and political environments. Their companies enter the world IT market and try to advance the quality of the services and skilled developers. The wages of their outsourcing developers are increasing. Therefore service prices are higher than the rest of Asia. They are oriented not only for European or American customers but also Asian ones.
Malaysia
Malaysia is partially limited by the smaller amount of outsourcing developers. Despite this fact it always gets a high rate among world-class service providers. It is a serious competitor for India and China. Malaysia is a great choice for mid-sized companies that are oriented for cheaper charges but less risky. It is acknowledged as an established player among top outsourcing countries 2020. Collaboration and partnership help to build a vibrant IT industry in this country.
Indonesia
Indonesia is a bit newer entrant of programming outsourcing. This country is an economic powerhouse in Southeast Asia. It has the biggest GDP in this region. Indonesia is the 4th largest population in the world that is why it is a huge source for new and talented developers. It is recognized by Gartner among top IT outsourcing countries 2020. The trend of outsourcing in Indonesia is regularly increasing. Jakarta is the center of the IT industry.
TOP LATIN AMERICAN IT OUTSOURCING COUNTRIES
Mexico
Mexico offers reasonable service prices and a well-educated workforce. The number of specialists is growing and they are constantly growing their professional and management skills. However, the industry there is relatively new, so there is a huge space for improvement for both the programming and business management sides of the collaboration. The US companies still consider that destination as a bit risky one, but when it works, it works well due to geographical proximity and slightly lower rates in comparison to Eastern Europe.  The Mexican government is also interested in improving their business environment in order to provide services for international companies. Programming outsourcing can be a great share of the national economy.
Argentina
Argentina is attractive for a lot of companies due to a culture mostly influenced by Europe. This country continually develops its economy and international relationships. Their education prepares skilled specialists who are eager to work. Argentina is implementing 65% of the design efforts of most Internet startups among Latin American software outsourcing countries. They are constantly trying to discover innovative solutions for a lot of issues.
Colombia
Colombia is often chosen for an increasing number of young outsourcing developers. Over 13,000 IT-related specialists graduate from Colombian Universities. The government supports foreign direct investments by sophisticated economic systems. Geographical locations attract US-based customers. The new opportunities make the country arrange the scheme for cooperation. Colombia is known for the best telecommunication and electrical infrastructure in Latin America. Bogota and Medellin are the centers of software outsourcing development.
Peru
Peru is a dynamic country with a growing economy. This programming outsourcing country is considered as a nice investment opportunity. Direct foreign investment rate rises as a result of positive economic development. Other Latin American countries tend to set up various operations. Their outsourcing developers mostly specialize in web and mobile applications. The revenue from the software outsourcing development industry is expected to grow every year.
IN CONCLUSION
Software outsourcing development has become an important branch of the IT industry. The job market increases considerably and requires new talented resources. Employers are looking for skilled workers who can deal with various technologies. They need to be ready for constant improvement and new business approaches. Western Europe and North America lack the shortage of workforces while rising IT spendings. In recent years a lot of companies start to outsource software development all over the world. These services are offered at a high level and have a number of benefits. Your company will cooperate with the team of professionals handling numerous tasks while you also decrease your spendings. The great option is a software outsourcing development team that will work for your company on a regular basis. In this article, we provide you with criteria that will help to choose the most suitable destination and their representatives. You can find a short description of the top outsourcing countries in 2020. Those countries are developing ones, but they have a huge willingness to work and improve. They offer up-to-date technologies and efficient cooperative schemes.
If you decide to apply for software outsourcing development in Eastern Europe, you are welcome to contact us. Existek is an offshore software development company with vast experience in this sphere. If you need any advice or have some questions, you are welcome to contact our team. You can send an email, fill in the form at our contact page or start the discussion right now in the chat widget.