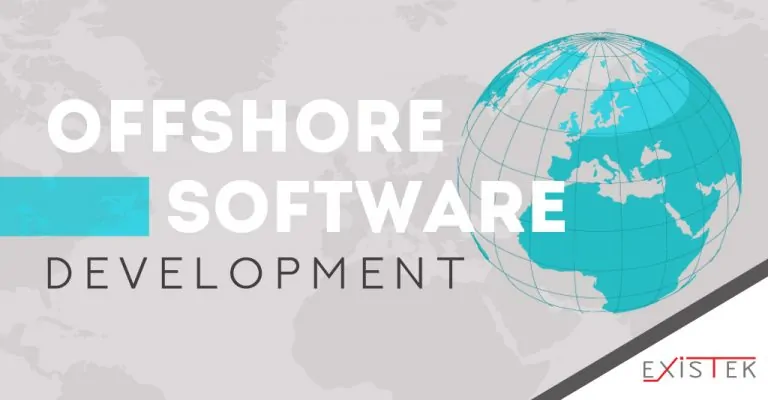 March 29, 2019
Many software companies across North America and Western Europe are starting to evaluate offshore software development and how it can help them to achieve their business goals. For those who consider this approach for the next project, we're providing a detailed explanation of this outsourcing model. Here you'll find more about its advantages and disadvantages and a few simple tips that will make a search for the reliable service provider a bit easier.
When starting a new software development project, many companies are used to involving not only their in-house teams or developers in their countries but also the ones from all over the world. This kind of cooperation has justified itself and resulted in the benefits for both sides. It is clear that outsourcing is an inevitable part of software engineering. Here comes another question what is offshore software development. In short, this term has the same meaning as the regular outsourcing but with the indication of the geographical distance between the customer and the provider.
List of the contents:
WHAT IS THE DIFFERENCE BETWEEN OFFSHORE, NEARSHORE, AND ONSHORE
Considering the geographical standpoint, outsourcing can be presented by onshore, nearshore and offshore development services.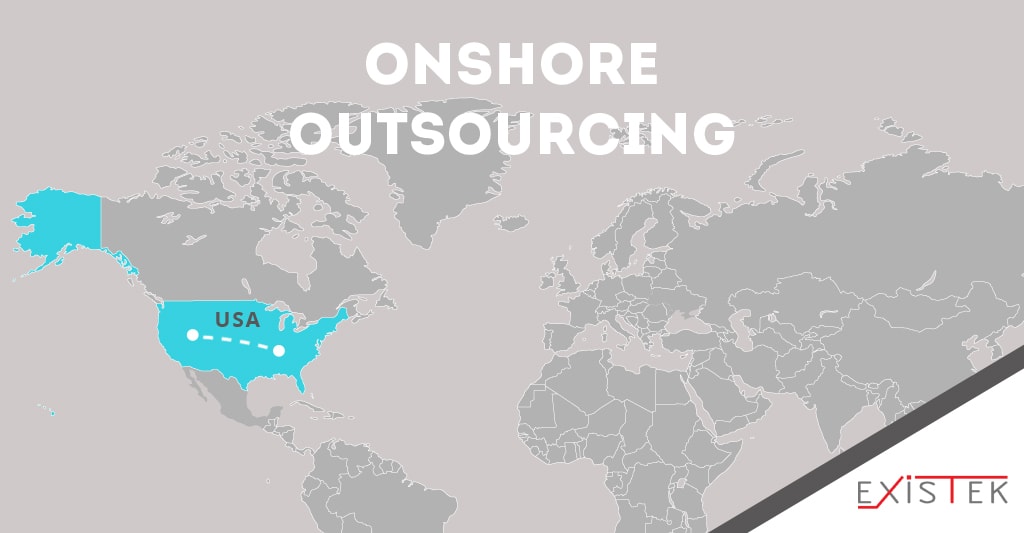 Onshore
When the company decides to hire the software developers within their own country, it is onshore outsourcing. They find this option rather convenient and approachable. For instance, the company can choose the provider just from the different region of their country.

Nearshore
Nearshore service is characterized by a similar time zone. For this reason, providers will be chosen from the neighboring countries. The customers count on cultural similarity and geographic proximity. In particular, Western European countries have the nearshore choice among Eastern European ones such as Poland, Ukraine, Belarus, etc.. The USA customers can apply for the providers in the nearest neighbor Mexico. In case they decide to choose other Latin American countries, it will not be called nearshore one.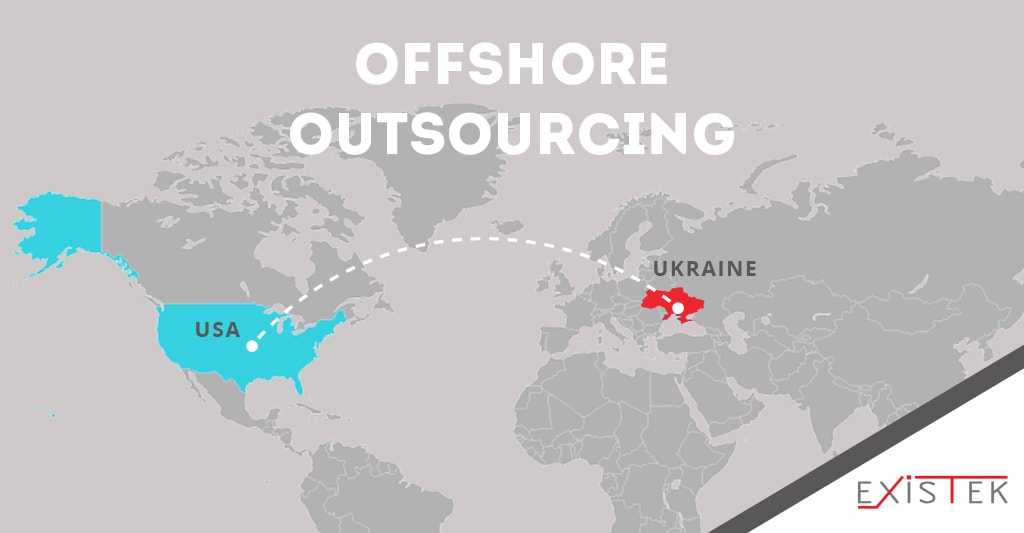 Offshore
Therefore offshore software development indicates that the company of providers is located in a foreign country far away from your country. It can be even the different continent thus the customers might face the notable time zone difference. Fortunately, nowadays it is not a problem at all. North American and Western European companies successfully collaborate with providers from all over the world.
In this article, we have prepared the explanation and overview of offshore development services, its advantages and disadvantages, and how to choose services provider.
OFFSHORE SOFTWARE DEVELOPMENT FIRMS: WHO ARE THEY AND WHAT SERVICES THEY TYPICALLY PROVIDE
IT outsourcing is a constantly improving industry. The market is full of various offers. Your main task is to find the most suitable offshore software development company for you and your project. First criteria to consider is where to find an outsourcing provider. You should keep in mind such factors as geographical proximity, qualification, and language requirements. Due to the geographical location of your provider, it also covers time difference and cultural similarity. It is generally accepted to differentiate service providers into several destinations: Eastern Europe, Latin America, Asia, and the Middle East.
---
"Take a minute to check a list of top outsourcing countries in 2019"
---
Choosing the destination is only the first step on the way to your final goal. You should be aware of what offshore development services the companies typically provide. They can be both responsible for the whole project and deal with defined tasks. Outsourcing companies are specializing in a vast number of services like UI/UX design, web development, mobile app engineering, etc. Your company will deal with devs who are talented and highly qualified and aware of numerous cutting-edge technologies. Every outsourcing software company is interested in providing the best services due to market competition. The customer can choose from available collaboration models, including project-based contracts, dedicated teams, and offshore software development centers. So let's check each available collaboration model.
Project-based offshore development model
When your current project requires extra hands or you looking for the offshore development team to complete a certain task, project-based collaboration model will be a great choice. Usually, it is a one-time collaboration for fulfilling outlined requirements. The option is represented by time and material and fixed-price outsourcing contracts. Time and material contract certainly defines all required services. All expenses are estimated in man-hour that's why any further assistance or collaboration is the matter of other contracts. A fixed-price contract is a reasonable option for per-project oriented tasks. You pay the fixed price for the whole project, and it will not rely upon how many hours or resources the offshore software company is going to spend on it. From your side, this collaboration model requires to be really specific and provide all detailed specifications. Applying this model into your project, you should not forget about setting the project duration period, usually no longer than a 6-month period.
Dedicated development team
Provided that the company needs to enlarge its staff by the team of remote developers who will work alongside the in-house team. The only difference here is they will be geographically located in the other part of the world. The customers prefer this collaboration model due to the talented pool of available offshore software developers and expenses decrease as well. The providers help you both to deal with routine tasks and reach the new goals while you always are managing the project and in control of the required expenses. When looking for dedicated and long term support, the remote team will be a rewarding option for your company.
Offshore development center
In other words, this term means the branch of the company located in a different country managed by other company onsite. This model is rather popular for business startups and enterprise companies. The tasks of those centers will be quite integrated and extended. Their teams will be responsible for various and numerous important services like engineering, creation, and testing, making solutions and managing different projects, customer and technical support. Opening that kind of center for your company, you get access to the new skilled workforce while saving the infrastructure costs and enlarging your business possibilities.
OFFSHORE SOFTWARE DEVELOPMENT ADVANTAGES AND DISADVANTAGES
Many companies find outsourcing quite necessary for running their businesses. Lately, a lot of developed countries have faced a workforce shortage. Sometimes it is hard to find qualified workers who are aware of the certain number of technologies and ready to start the project real quick. Consequently, offshore development services have become an important part of the general work process. Let's go through the list of advantages and disadvantages you can face.
Offshore software development advantages
Cost cut down – It is known that you can reduce the expenses by hiring remote programmers. Their salaries will be lower than the in-house developers'. And at the same time, you don't spend money on facilities, utilities, and equipment.
Talented and skilled specialists – Different countries have a wide talent pool of professionals. They are the graduates of tech universities that constantly improve their tech skills, take part in various IT conferences and competitions.
The balanced approach of management – The customer is in control of managing their project developers. You can always choose how many and what developers you need. However, it will not be time-consuming as the offshore software company is always there for you.
Know-how – The majority of offshore development companies specialize in particular technologies. They keep on improving employers' skills. Regular training and gaining new experience are held on a regular basis. As long as you look for experts, offshore programming will definitely have the payoff.
Offshore software development disadvantages
Communication issues – Sometimes communication may slow down due to time zone difference. Actually, it is about dealing with the issues timely, but in other cases, there are many modern ways of communication like video calls, email correspondence or even instant messaging. It will just require a little bit more organization and coordination
Cultural difference – It is recommended to consider this criterion because of the cultural barriers and different work ethics. The USA, Canada, Australia find the Eastern European mindset pretty similar whereas some companies have failed the communication establishment in Asia and the Middle East. Eastern mindset is quite different from the European one.
OFFSHORE SOFTWARE PRODUCT DEVELOPMENT AND HOW TO DO IT RIGHT
Taking into account all the advantages of offshore development services, this kind of outsourcing is a reasonable and beneficial solution for your company. You will make your expectations real as long as you organize the cooperation in the right way. The providers are always interested in establishing professional and productive relations. The first step to fulfill is the clear definition of your final goals. Sometimes the companies forget about this step and count on others. Of course, the remote team will do their best to find a solution for you. However proper goals notably increase productivity. Nobody knows better than you what the final result should be. Secondly, it is vital to ensure communication between the two sides. The customer should remember that concrete directions and guidance are the necessary components of collaboration. The language barrier might be a big obstacle here. When you do not communicate with your provider, your collaboration will never be as efficient as it can. Therefore consider those offshore development companies with whom you can find the common language. Regular email correspondence, phone, and video calls enable great communication even overseas. On the one hand, some companies might believe that in-house teams deal with these tasks much better. Moreover, good communication seems to improve faster within your own company. On the other hand, the offshore software development company provides specialized expertise while your own team can lack a certain specialist. They have gained the experience and can get the project finished faster. You do not need to look for the new specialist of the team or teach your employees, especially when it is a one-time task. Certainly, you save not only time but resources you spend on reaching your goals. At the same time, you can expand your business by setting your own team.
HOW TO CHOOSE OFFSHORE SOFTWARE DEVELOPMENT FIRM
For the most part, the future provider will influence your result and success. Take it seriously and consider all the details, requirements and the final goals. The main target of the provider is to fulfill projects in the most efficient way. The outsourcing market has various choices while competition helps to improve the quality of services. Anyway, the sufficient work of the provider is equivalently supported by the customer's abilities to set up the collaboration process. Keep in mind all mentioned above factors and use the list of required actions to facilitate your choice:
Know your goals – You should outline them first, make the choice of what technologies you are interested and what results your company expects.
Find the established provider – Look for the experienced offshore software development company. They should not specialize in all technologies at once, however, their developers must be professional in the chosen branch.
Review references – Check ranking aggregators such as

Clutch.co

and visit the company's website to look at the information of the previous projects, contact the company's representatives.

Choose the right offshore development model – As mentioned above you can choose among project-based contracts, dedicated teams, and development centers. It will just depend on your requirements.
Protect your data – It is really necessary when the provider has access to the customers' information. Any outsourcing contract should contain a non-disclosure agreement and regulate how the IP is managed to prevent any data leaks.
Ensure regular connection – Keep in touch with your provider, give guidance, and control the developing process. Communication is a fundamental element of success.
On the whole, the customers should be as well organized as their providers, share the same ideas, find the common language and be open for collaboration. The process of its establishing will define the final results.
CONCLUSION
The modern software market has a number of options for developing your business. Provided that you have the overview of offshore software development and its advantages, the choice is up to you. With no doubt, it is the undeniable element of the software engineering process these days. It has revealed the newly available resources for handling the tasks in the most efficient way. You will cooperate with highly qualified and talented workers from all over the world. They are open for learning and improving their skills, and full of ideas that will help your business prosper.
When you make a decision to apply for offshore software outsourcing and look for the company with extensive experience, you are welcome to contact Existek. Our company will be glad to find the best solution for you. Check our website for references and expertise we deal with. If you have a question or need the expert consultation send us an email, fill in the form at our contact page, or start the discussion right now in the chat widget.