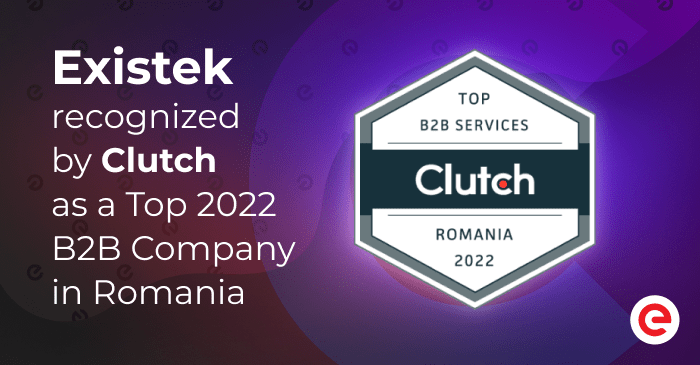 June 8, 2022
At Existek, we help organizations increase their productivity and efficiency through results-focused outsourcing. Founded in 2012, we've been the go-to provider of innovative technology solutions. Existek provides fully manageable offshoring for software companies worldwide, enabling them to overcome modern challenges.
Today, we're excited to share with you that we've been named as one of the leading B2B companies on Clutch. According to the market research firm, we're among the top development companies in Romania this year!
"Client centricity is at our company's core. We're proud to be trusted by so many companies as we work hard to exceed their expectations every day." – Oleg Feferman, CEO, Existek
Clutch is a B2B ratings and reviews platform committed to helping organizations of all sizes connect with the solutions they require to succeed. Clutch cuts through disorganized market research by collecting informative, transparent feedback directly from clients of vendors registered on the platform.
Take a look at the most recent reviews we've received through Clutch:
"Their reliability was impressive. That is a huge deal since we wanted a team that shared the same views with us." — IT Manager, GHC
"Their flexibility to bring in other team members with different skills as needed impressed us." — Matt DeBeer, CEO, Aibly Corp
We want to thank all of our partners who took the time and effort to leave their helpful feedback about our solutions. Please check out our catalog of verified reviews to learn more about our projects.
If you need reliable IT outsourcing solutions, don't hesitate to contact us today!