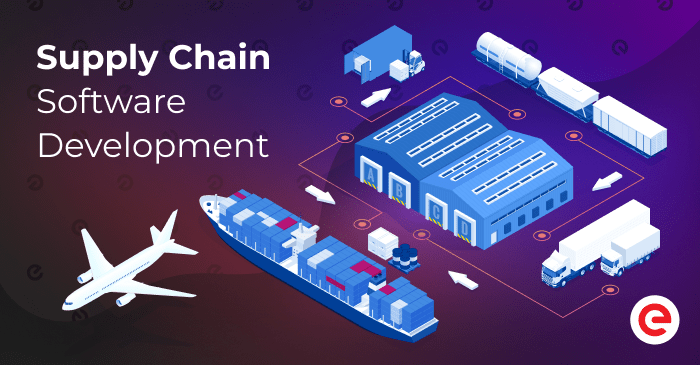 March 31, 2022
How to enhance supply chain management for your business? What can be an efficient solution to manage operations across the entire supply chain? Check the article on supply chain software development to discover its implementation, core features, technology stack, required resources, and other related aspects.
List of the Content
WHAT IS SUPPLY CHAIN MANAGEMENT SOFTWARE?
Have you thought about the way products or services get to the customers? And how many tasks and operations do enterprises have to handle behind the scenes? Therefore, supply chain management encompasses everything from product production with raw materials to its final delivery. It focuses on unifying all the components to support the entire supply chain. 
Enterprises in manufacturing or production understand the importance of technology adoption to streamline the supply chain. It's an excellent opportunity to leverage the latest solutions for the business advantage. The efficient implementation helps automate processes and make them more productive, smarter, and faster.
The market presents a wide variety of software for production planning, inventory management, logistics, procurement, analytics, etc. But what about an all-in-one solution to address numerous needs? 
Supply chain software development aims at delivering a unified solution to connect core components of the supply chain. For a better understanding of what is supply chain management software, let's discover these components:
Planning – Enterprises face the increasing need to arrange a well-outlined supply chain. Therefore, it remains crucial to support planning in production, material requirements, supply, operations, sales, etc. 

Logistic management – It covers the business needs for transporting and storing goods. Supply chain software management development involves tools for managing fleets, inventory, and warehouses.

Manufacturing technology – It's essential to mention all the modern approaches of engineering and production to assist manufacturing processes. Typical examples are additive manufacturing, big data, IoT, augmented reality, smart factories.

Product lifecycle management – Supply chain software also helps arrange the product lifecycle, starting from creating new products to distribution and eventually retirement. 

Enterprise asset management – It also involves adopting tools for managing and tracking physical assets, including equipment, machines, vehicles, and buildings.

Procurement – This component helps outline essential business requirements for enterprises and improve the effectiveness of the procurement process. 
As a result, enterprises obtain a unified tech solution to support the supply chains and lead to business growth. Many teams consider supply chain software development services as a perfect opportunity to automate processes, increase productivity and deliver a great customer experience.
As for the market share, the supply chain management software segment has grown considerably recently. According to the statistics, its revenue is projected at $18.57 billion in 2022, with an annual growth rate of 6.39%. 
It's a fact that businesses are eager to transform their operations and willing to adopt suitable solutions. Supply chain software development has the necessary tools to fulfill the outlined requirements. It's vital to transform the supply chain management and advance it with the latest technology approaches. Moreover, teams have the possibility to specify their needs starting from the standard supply chains to more complicated and layered ones.
SUPPLY CHAIN SOFTWARE DEVELOPMENT OBJECTIVES
Enterprises find supply chain management an absolute necessity for their businesses. The choice of introducing advanced technologies to daily operations is quite simply explained. Regardless of the industry specification, they can leverage functional software to arrange the supply chain efficiently.
The main thing is that they can achieve key objectives most enterprises have. The right choice of supply chain software management development is supported by the following objectives: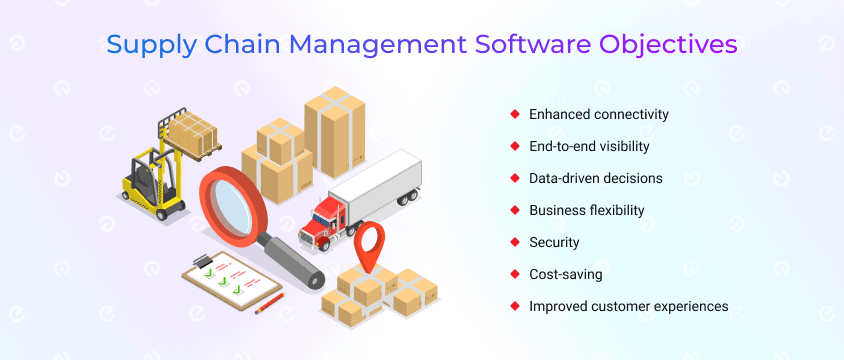 Enhanced connectivity – It's become the inevitable aspect of business efficiency. Supply chain management enables operation synchronization across the entire process. Besides, it supports connections of all the involved parties: manufacturers, suppliers, vendors, customers, partners, etc. 
End-to-end visibility – The clear view of activities, control in management, real-time tracking are essential for regulating transactions. Besides, supply chain visibility allows teams to mitigate risks and make the right decisions for further improvement.
Data-driven decisions – To generate the correct predictions and optimize performance, businesses need to get the most value from the data. That's about unique capabilities to make real-time insights and use them for the business advantage. Informed decisions are powered by advanced analytical approaches, business intelligence, etc.
Business flexibility – Agility is one of the critical aspects of enterprise success. The supply chain connectivity enables the responsiveness of the business and continued scalability. They obtain all the necessary tools to allocate resources, adapt to rising demand, streamline required connections.
Security – Supply chain software development follows the best market practices. The best security measures help assess, mitigate and manage supply chain risks. Besides, managing security remains a continuous and consistent process, so it's advanced regularly.
Cost-saving – The well-planned supply chain software development embraces such an important aspect as resource management. It's related to balancing operational costs and optimizing business capabilities. Besides, it always embraces important cost reduction strategies – supply chain automation, inventory management, logistics planning, etc. 
Improved customer experiences – It's worth mentioning that the supply chain efficiency impacts user experiences and supports client satisfaction. Real-time notifications, on-time delivery, great customer relationship management are some good examples to inspire customer loyalty.
Supply chain software development allows enterprises to transform existing processes and introduce new approaches. It refines the available solutions and keeps on its advancement. Businesses can get a unified and convenient solution to address various needs. 
Software availability and accessibility have brought supply chain management to an entirely new level. High-quality development introduces solutions to accept any challenges in the supply chains. Businesses receive the perfect tool to deliver products and services to customers through a well-organized and managed process. 
Following the same business objectives, they don't forget about customized approaches. The choice of supply chain management software is always based on business-specific needs. The detailed analysis of the internal and external processes prioritizes the functionality and gives new ideas for implementation. The supply chain management software can vary in functionality but aims at high-quality and fast operations and processes.
KEY FEATURES IN SUPPLY CHAIN SOFTWARE DEVELOPMENT
Before the enterprise adopts supply chain management software, it's essential to discover its typical functionality. That's something that outlines product requirements and meets urgent and rising needs. 
The chosen functionality has to support daily operations, introduce new opportunities and focus on further advancement. It's a fact that the software complexity depends on the complexity of the supply chain. Some teams go with standardized approaches; thus, they can follow the basic principles of supply chain automation. As for the large enterprises, that can be a pretty complex task handled with more advanced and customized solutions. 
The distinctive characteristic of supply chain management software is smooth integration. It's no problem finding separate software for particular operations across the supply chain. Whereas combining several solutions can't be that effective and is not always suitable for integration. Therefore, the main goal of any supply chain software development is integrating all the required components into one functional solution.
In order to build supply chain management software, we've defined some commonly added features: 
Inventory management
Real-time inventory tracking is one of the core features of supply chain software development. It allows the enterprise to manage inventory across multiple facilities, warehouses, distribution centers, etc. It's often powered by such tech solutions as barcoding, RFID, IoT, EDI technologies. That enables better inventory control and data synchronization through the entire supply chain.
Manufacturing & material requirement planning  
In order to balance the customer demand and manufacturing volumes, the team has to include a planning feature. It's based on demand forecasting and accurate calculating of materials for manufacturing. The functionality covers real-team data analysis, production scheduling, supply predictions. Its efficiency is supported by smooth integration with different tools like CRM, inventory management, order procurement, etc. 
Warehouse management
It's a functionality required for warehouse operation automation. Besides inventory management, there are other tasks related to warehouse management. It supports the product cycle management on such stages as packing, shipping, replenishing, etc. Moreover, the feature covers real-time updates on the stock level and streamlines the work order management across multiple warehouses. 
Order processing & fulfillment
This supply chain software feature covers all the operations between taking orders to their fulfillment, including returns. It's created to control, optimize and monitor order processing. Also, the data collected via this supply chain component is valuable for service improvement. It can be evolved into efficient fulfillment strategies for every order stage. Besides, supply chain software development focuses on enhancing customer experience and applying more personalized approaches.
Logistics management
The supply chain management software usually includes a separate feature to streamline logistics processes. It handles a considerable part of supply chain operations related to transportation. It allows enterprises to track and monitor shipments, fuel supply, deliveries, and others in real-time. Logistics management focuses on streamlining complex workflows and bringing more visibility to storage and transportation.
Analytics and reporting
Supply chain management greatly depends on valuable insights and predictive analytics. Enterprises that embrace analytical approaches have more chances to succeed with their business decisions. It allows the team to gain better control, respond to the market demand, streamline operations. Structured and visualized data is valuable for strategic planning and overcoming production challenges.
Along with focusing on particular supply chain components, all the software features are integrated into one cross-functional system. As a result, the introduced functionality has all the necessary tools to build up the supply chain support.  Besides, all the teams can always extend it according to rising needs.
TYPES OF SUPPLY CHAIN MANAGEMENT SOFTWARE
The next thing to consider is the choice of supply chain software. The market presents a wide variety of ready solutions to integrate into the existing process. And at the same time, many enterprises prefer to start custom supply chain software from scratch. 
So we've come to the part of comparing two main types of supply chain management software – off-the-shelf and custom solutions. Let's find out the pros and cons to make a reasonable choice based on business needs.
And it's worth starting with learning the overall market situation. According to the statistics, the largest market shares belong to such representatives as SAP and Oracle. But the fact is that it is only about 30% (SAP – 18.8% and Oracle – 12.4%). The rest of the shares are divided between numerous representatives, making them quite competitive. 
As a result, that becomes a positive aspect for enterprises. They have many viable alternatives to choose from, including the opportunity to create custom solutions. But how do these types of supply chain management software differ?
Off-the-shelf supply chain software
Pros: quality, low upfront cost, vendor support
Cons: expensive licenses, excessive functionality, less customizable
That's a good alternative as business software vendors offer a wide range of ready-to-use products. Proven quality and low upfront costs are among the main advantages of this solution. The well-outlined requirements allow enterprises to choose the supply chain software regarding most needs. However, standardized approaches can't be so efficient for specific operations of some companies. 
Also, excessive functionality costs more and is not always fully applied in particular supply chains. As a result of comparing with custom solutions, out-of-the-box software could become more expensive. Even though the supply chain software cost starts at a reasonable price, it can grow to thousands of dollars. Enterprises need to remember that fees are based on the number of users and partners as well as the volume of operations. 
Therefore, off-the-shelf software often becomes a choice for smaller companies handling a standard supply chain. 
Custom supply chain software  
Pros: customization, scalability, cost-savings
Cons: lengthy development, high upfront costs
It's a really good question why businesses start custom SCM software development when there're ready solutions. The main advantage is that supply chain software is specially created for the particular enterprise's needs. They have the opportunity to prioritize functionality, scaling up or down if required. Also, it's about choosing flexibility and no dependency on software providers. The team takes responsibility for the product delivery and its further maintenance.
Of course, it takes some time, effort, and resources to build functional software. The businesses have to set up an in-house team or partner with the supply chain software development company. They need to choose among a wide range of technologies as well as development methods. However, there is a tendency to implement cloud-based software rather than on-premise ones. Moreover, there're various options to migrate existing solutions to the cloud. 
Custom supply chain software development requires considerable upfront investments. But at the same time, these are long-term investments for meeting current and future needs. As for the use cases, custom greatly covers the requirements of the large enterprises for the complex and specific supply chains.
HOW TO START SUPPLY CHAIN SOFTWARE DEVELOPMENT
Making the final choice of the required supply chain software isn't possible without finding more on custom development. So let's go through some important aspects of approaching supply chain software development.
An ultimate goal supports the decision to build a supply chain software from scratch. Enterprises use a unique opportunity to deliver multi-functional software for their business needs. We've gathered useful tips on succeeding with custom supply chain software development. These are important steps to take before the actual development process.
Learn needs and set up clear goals
The primary steps are really important for overall project success. The enterprise has to carry out the most detailed requirement analysis. It's a fact that comprehensive insights are the key to faster software implementation and putting changes in place. Moreover, it embraces both technical and business requirements with short-term and long-term goals. These documented project requirements will serve as a comprehensive guide for further development.
Form a cross-functional team
The role of the team is highly valued through the development process. Supply chain software development is referred to complex projects and requires high-level proficiency. It involves professionals of different fields carrying out numerous tasks over an extended period. The enterprises have several options in hiring the team: full-time engagement, dedicated teams, or even freelancers. However, the team composition remains quite similar. The SCM software development team commonly consists of business analysts, system architects, a project manager, designers, developers, QA specialists, etc.
Define the technology stack
Technology advancement has brought so many opportunities for businesses. So the team has to get the most out of it and choose the suitable tech stack. It is important to stay really specific as we talk about custom supply chain software development. The best way to make a decision is to combine good market practices and outlined project requirements. The complexity of implemented solutions for supply chains requires adopting the latest development approaches. For instance, cloud-based solutions support high scalability, accessibility, enhanced performance, security, etc. There is a list of popular technologies for supply chain software development:
Web technologies

Mobile technologies

Cloud-based services

Big Data

EDI

Internet of Things

Artificial intelligence
Execute the plan 
Formulation of the detailed plan allows the team to proceed with its implementation. The development timeline could last for months due to the project complexity. Therefore, it's important to focus on step-by-step approaches. There are many proven software development methodologies and techniques to organize the process. It aims to support efficiency on each development stage, minimize risks, and get the expected results. According to the classification, software development approaches can be divided into predictive and agile groups. Predictive models (Waterfall, V-shaped, Iterative, Spiral) focus on the predefined scope of work. Agile models (Scrum, Lean, Kanban) are more flexible and adaptable to constant modifications on the go. Even though SDLC models vary, their main objective remains to efficiently complete all development stages: requirement analysis, design, development, testing, deployment, maintenance.
WHAT IMPACTS SUPPLY CHAIN SOFTWARE DEVELOPMENT COST
Imposing the right requirements is a key to successful product implementation. And it's obvious that the team can't start the process without estimating supply chain software development costs. Moreover, it isn't only about defining actual needs but also the opportunity to balance them correctly.
There is always a big difference between projects and their delivery. Enterprises are unlikely to spend the same resources building software with different functionalities or other tech stacks. Therefore, supply chain software development cost has to be estimated individually for every supply chain management software.
To start with, we've gathered some of the common aspects to impact development expenses.
Software complexity – Supply chain software development embraces multi-component functionality. It means that developers work on delivering complex solutions even though included features can vary. Functionality prioritization is efficient for balancing available resources and arranging step-by-step development. 

Chosen tech stack – The technology choice is decisive for any supply chain software development. The team takes responsibility to select reliable, up-to-date, compatible technologies. It's important to go with the best tools to present functionality, support productivity, and save resources.

Process efficiency -The well-arranged process enables the faster implementation of the outlined product. It's a good practice to apply proven development methodologies and techniques. That enables a high level of control, enhanced productivity, and continuous communication between team members.

Developers' proficiency – It's rather important to partner with experienced specialists. The professionals make significant contributions to the overall process. Technical, problem-solving, analytical, communication, and other practical skills are vital for faster completion of assigned tasks. It can even decrease the number of working hours as experienced developers tend to spend less time on coding, debugging, deployment, etc.
Development rates –

Hourly rates

commonly vary due to expertise, experience, and availability. The talent pool shortage, costs of living are other aspects that cause the difference in rates across the globe. The developers' salaries in North America or Western Europe are way higher than in other locations. However, it's no problem to partner with developers in other countries. The main goal is to obtain the best quality through professional services at reasonable rates. 

Engagement models – Another factor covers details on setting up and getting engaged with the team. If the team composition remains almost the same for most projects, they differ ways to partner with them. The in-house team is more expensive as it requires regular full-time engagement. In contrast, outsourcing vendors can offer several types of contracts and engagement models for your needs.
Considering these factors, businesses learn how to apply for professional services and manage the budget accordingly. Detailed requirement analysis and strategical planning are helpful tools to balance supply chain software development expenses.
IN CONCLUSION
Regardless of the industry specification, enterprises need efficient solutions to streamline business processes and operations across the supply chain. Adopting supply chain management software allows the team to establish better control and enhance productivity. They have a unique opportunity to turn all active components into a unified system.
The precise definition of needs helps you choose the right solution. When carefully approached, ready-to-use and custom supply chain software solutions can become an invaluable tool for business efficiency.
Frequently asked questions
What is supply chain management software?
Supply chain management software presents a set of features to streamline business processes and operations through the entire supply chain. It enables interaction of all involved components from product production to delivery to customers.
What benefits do enterprises gain with supply chain management software?
It beсomes a helpful tool to handle numerous tasks across the supply chain. Leveraging this solution, enterprises acknowledge the following benefits:
Enhanced connectivity​

End-to-end visibility ​

Data-driven decisions​

Business flexibility​

Security​

Cost-saving​

Improved customer experiences
How to approach supply chain software development?
As long as the business goes with custom software development, they need to implement the solution from scratch. It means that they take responsibility for handling all the development stages: requirement analysis, system design, development, testing, deployment, maintenance. Careful planning helps to turn business needs into workable solutions.
What impacts supply chain software development cost?
It's a fact that development costs vary from project to project. The enterprises can't spend the same amount on different software. Chosen functionality, applied tech stack, team composition, development rates are common aspects to influence the final software price.