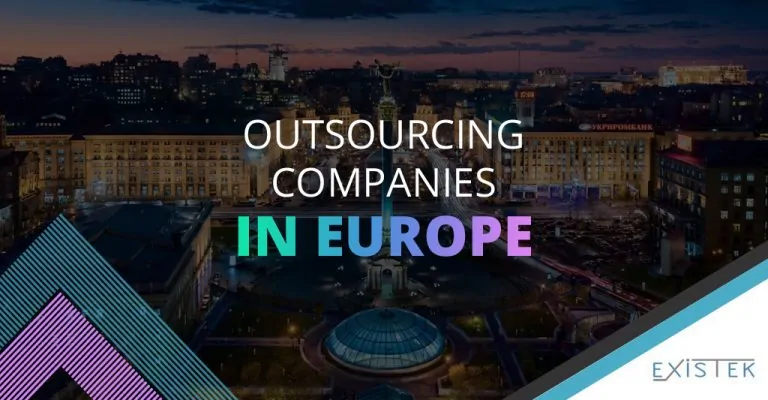 March 14, 2018
Europe is a well-bred region of technological activities from hardware, software and other IT services. For instance, countries such as UK and Netherlands, are dominant in procuring software development services from foreign companies. On the other hand, countries like Ukraine and Poland are brimming with a pool of IT talent thus become the software development providers. In addition, other countries outside of Europe outsource to software development companies in Europe making the area a hotbed of IT services and software solutions.
The software development outsourcing industry in Europe is further backed up with solid factors such as the convenient geographical location. Among the European countries, there are similarities in use of common languages, culture and a general mentality which makes interaction easier. Also, there exists a close time zone which facilitates foreign European countries working together and the common expectation of the quality of software.
You may now ask "What then causes one country in Europe to outsource from another?" Between western and eastern Europe there is the difference if pricing on the software development process. Eastern Europe has a greater pool of talent making their IT services more affordable as compared to countries in Western Europe who struggle with IT talent and workforce shortage.
STATE OF IT OUTSOURCING IN EUROPE
A large talent pool of developers, high quality IT education and strategic location are among factors that encourage outsourcing of IT services in Europe, especially Eastern Europe. Eastern European developers are among the world experienced and qualified IT experts in software development plus their services are usually at affordable rates.
In turn, most Eastern European countries have the IT industry as one of the top sectors in their economies. Countries such as Ukraine, Poland, and Belarus have experienced major returns from the outsourcing software development from the last five years. A country such as Ukraine, for instance, was valued to have an IT industry volume of 3.6 billion USD in 2013 which accounts for 3% of the country's GDP.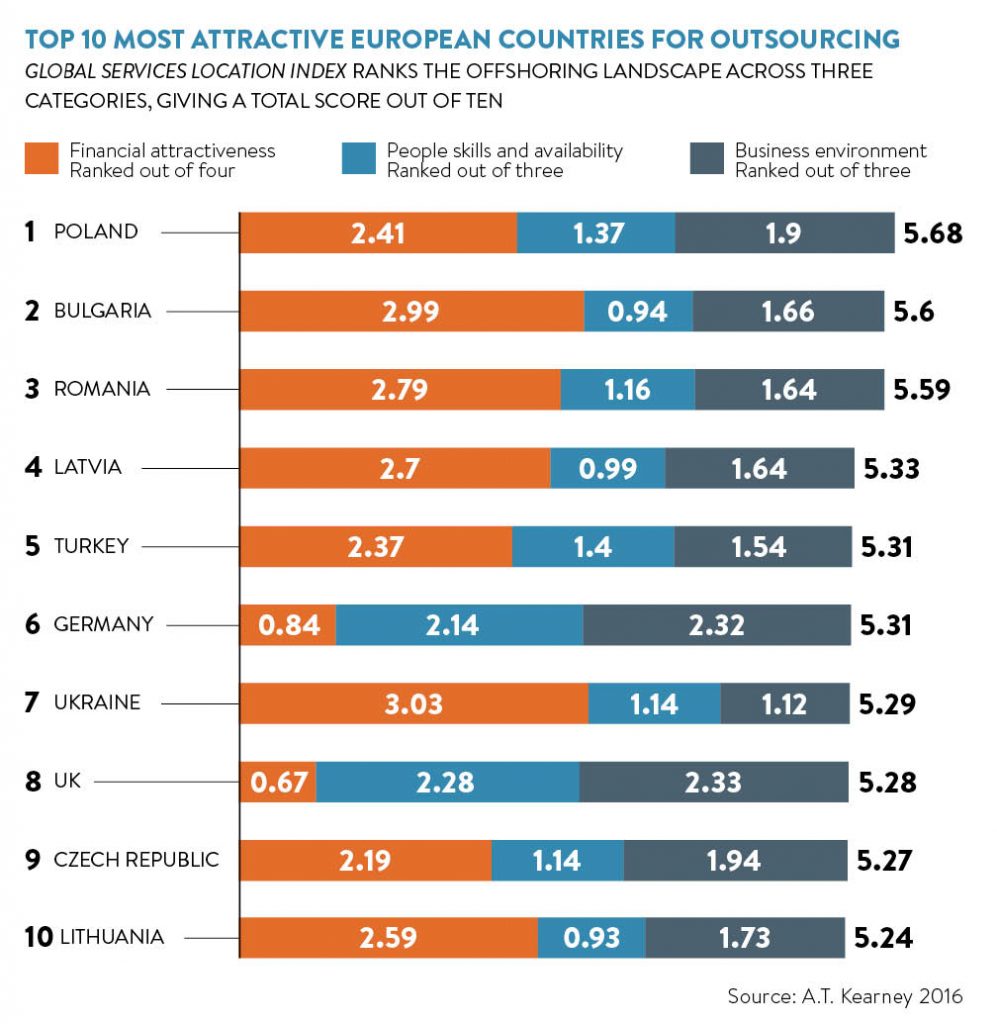 According to A.T. Kearney Ukraine is the most financially attractive outsourcing destination in Europe while Poland has the significantly better business environment at the cost of the higher prices.
Most of the hired software development companies in Europe offer dedicated development teams, R&D, custom software development and consultation services. Most developers in the European market are expertise in the technologies such as front-end development, C#, .NET, Java among many more. Major organizations are known to have a solid relationship with software development companies in Europe due to the high-quality services they acquire. Such companies include Manodo (KTC Control), Lebara, Anoto, Anybill, Staffcare, and Spoke are among the well-known for outsourcing in Europe.
Want to know more about outsourcing in Eastern Europe?
Find out what the advantages of Eastern Europe are in terms of outsourcing and what countries are the best to choose from.
COUNTRIES THAT OUTSOURCE IT MOST
The rapid advancement and growth of technology is a coin with two sides, one side is positive while the other leaves developers to struggle and match their skills with the latest IT developments. More creativity and knowledge is required by developers whose work is being replaced by computers. Countries that face such challenges of the limited skilled workforce in technology and overpriced IT services in their home country, find consolation in outsourcing from other countries.
Among countries with challenging IT skillset include the USA, Canada, Germany, and the Netherlands. It is difficult to find qualified IT experts in these countries due to various reasons such as the small growth rate of the German population. In the Netherlands, approximately 10% of the software developers required is available. This could be attributed to poor literacy among the Dutch teenagers and youth. North America faces a skill gap, while it has numerous IT job openings which cause companies to experience loses if they do not outsource the required services.
In general, such countries face a shortage of technical skills which in turn result in high rates of the software development services forcing the companies to outsource.
HOW TO RESEARCH FOR OUTSOURCING COMPANIES IN EUROPE AND WHERE TO FIND THEM
Listing services
Once an organization has decided to outsource software development services from Europe the next big step remaining is picking the right IT outsourcing company for the project. A client can acquire outsourcing companies to compare and choose from listing platforms such as Clutch, Extract and Goodfirms.

Clutch allows applying various filters to get the list of the companies that suit you most. Including but not limited: location, average hourly rate, and the number of employees.
These are sources from which clients can view different IT companies and even information about them. A client can then acquire the appropriate company in accordance with his or her requirements to the listing portals. The advantages of using listing resources are:
The availability of detailed information of the available companies. Each of the IT company's information on the research and review portals is specified in terms of location, hourly rate and the client's reference

Another pro is that the information made available to the client is collected from the company's customer, therefore, the results are a recommendation of their requirements.
However, the disadvantage of using the listing services is that companies do not get the chance to advertise their services meaning the client could be missing some essential details.
Here are a couple of examples of the most popular listing resources for the software development companies and how you are going to see the company profile there.
Clutch
For large, medium and small enterprises trying to make decisions on which company should provide them with digital or IT and marketing services, Clutch is the better option. It is a research firm that provides analysis for companies that offer procurement and technology support services.
Standart preview of the software company's profile at Clutch.co. By opening the full profile you will get access to the complete texts of all reviews, portfolio items, list of industry domains etc.
GoodFirms
Other than being a research platform, GoodFirms offer reviews of software development companies. The availability of the reviews enables clients to choose the best software design, development, and marketing services. GoodFirms also offers a platform for the software development companies to increase their clients and brand awareness.
Standart preview of the software company's profile at GoodFirms. Worth to say, that often you can find a big interview with the CEO of the company in the profile and learn more about company's core values and cooperation model from the story-like text.
Google search
Another recommendable source of outsourcing software companies in Eastern Europe is from Google. At the first look, this recommendation looks pretty obvious, but even simple Google search can be done in many ways. First, you can play with the search queries, for example, "Outsourcing companies in Europe" (36.4M Results) or ".NET development company in Europe" (3M Results). You need to take into the consideration your location as well. If you are located in Europe it is worth to use keywords with the particular country like "outsourcing company in Ukraine". Google tends to show you relevant results in close proximity to you and if you'll use more general phrases like "software outsourcing companies" you more likely to get the majority of the results in the EU. For anybody from North America, it is worth to add words "in Europe" to let the search engine know that you're interested to get the list of the companies in that particular location.
Before approaching search on Google, there are few things to consider to save your time. Ask yourself a couple of questions about the ideal company you want to find.
What are my primary evaluation criteria: price, experience, location, or experience in a certain domain?

Which model of cooperation am I looking for: cost +, time and material, or dedicated resources?

What location is more suitable for my needs? (we will explore three main outsourcing destination in Europe further)

Does the company necessary have to have expertise in your industry, if yes, define which domains have priority for you? For example, you're looking for somebody to work on firmware for your new video streaming device. Should it be the company experienced in video streaming or in embedded systems development?
Are you price shopping or is it the relevant experience that matters most? Maybe you need to work with the outsourcing company who leverages dedicated software development team model instead of the project-based approach. In this particular case query "hire dedicated development team" will be a better choice. Use your answers in the search queries and get results that really matter to you. Having a list of the companies who have, for instance, fintech expertise is much more convenient than browsing through the infinite list of the companies related to the keyphrase "offshore software company in Europe" with hope to find "finances" in the industries sections of their website.
Evaluation criteria for the outsourcing companies
Finally, a client should always use a point of comparison when going through the outsourcing providers in order for them to choose the best IT company.
Pricing
Choosing the most affordable company is the easy way to go but cheap can become expensive later. Therefore, the best decision would be to pick a company with a stiff competition with the rest such that their rates for their services do not differ with the other outsourcing companies.
Experience
Pay close attention to each company's previous work. While at their site read through their portfolio to get acquainted with their know-how in design, specialization, and use of modern technology. For instance, if you want front-end development, the outsourcing company should have experience in UX and design. Also, companies that are focused on particular sectors are more likely to excel at the specific areas if that is what your project involves.
Communication
The interaction between you and the IT company needs to be constant and interactive. As a client, you need to be frequently updated on the status of the work. The more projects an outsourcing company has handled, the more experienced it has in communication with clients.
Management
Outsourcing of IT services requires good project administration in terms of management of resources, time, the gathering of requirements and reaction to change. The outsourcing company that you select should be able to ensure the project goes on smoothly for completion of the set budget and time frame.
POPULAR OUTSOURCING DESTINATIONS IN EUROPE
Ukraine, Belarus, and Poland are among the most popular countries for outsourcing in Europe. This is because they offer high-quality technical services and at affordable prices plus, there is a large number of developers with different expertise from which clients can choose from.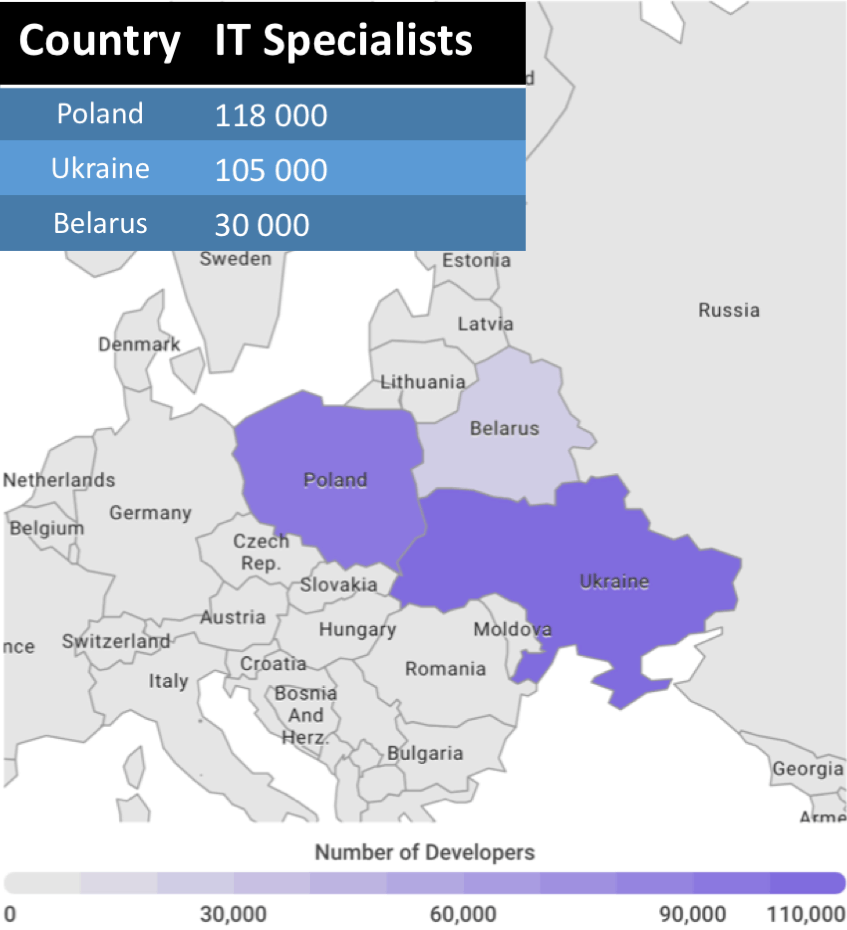 Ukraine
Ukraine is among the top Eastern European countries that offer the best software development services. It has a large number of developers of approximately 1000,000 and over 100 IT companies resulting in competition leading to affordable service rates and high-quality standards of software development processes.
Want to know the average development rates in Ukraine?
In the article, we've discussed the core aspects related to outsourcing to Ukraine and provided relevant information about the salaries of software developers.
Belarus
Belarus as well stands out as an outsourcing destination with almost half of the country's companies providing application and software development services. The IT industry in Belarus plays a great part in its economy by making a contribution of 1.5% to the GDP. It also has a great number of software developers amounting to around 30,000 and over 970 IT companies. The software development sector is also aided by the government which has exempted residential IT companies from taxation with a condition of joining High-Tech Park.
Poland
The IT industry is a fundamental sector of the Polish economy, in 2015 its value including hardware software and IT services summed up to 32.6 billion PLN with a forecast of 35.8 billion PLN in 2017.  Poland has a greater number of IT professionals of around 118, 000 who have increased experience from working directly with global outsourcing companies. Poland is one of the European countries with a successful number of IT workforce.
CONCLUSION
Finally, Europe particularly Eastern European is a region rich in software development services among other IT solutions. It is a fortress that companies can seek in their efforts to match up to the ever-evolving technology. A country like Ukraine, for instance, has professional IT experts who offer nothing less than high quality IT services and solutions worth investing into.
In case you are in search of an outstanding offshore software development company in terms of their experience and skills, contact us at Existek. We offer services ranging from dedicated software development teams, custom software development, professional IT services to software product development.