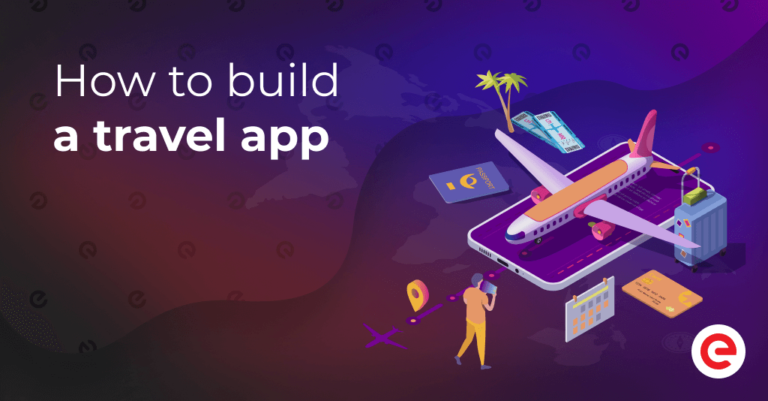 January 31, 2022
Have you thought of how customer preferences are changing the travel market? And how is it related to technological advances? The short answer is that technology is revolutionizing the way people travel. With a few taps, customers can plan a trip and go exploring sought-after destinations. Following the market tendencies, travel brands definitely understand the need to provide customers with new solutions. In this article, we'll address the question of how to build a travel app and how to use it to a business advantage.
List of the content
WHY BUILD A TRAVEL APP?
Despite all the challenges the travel market has experienced over the last few years, it remains among the fastest-growing industries. Because the travel segment is closely intertwined with other businesses, it stimulates growth in hospitality, transportation, food, travel insurance, and other industries. According to the latest projections, the travel market revenue is going to increase to $364 million in 2022. 
Travel app development has opened so many opportunities for both customers and businesses. It's hard to overestimate the popularity of these applications in the market. Customers quickly got used to doing things using travel tech solutions. They check new destinations, book flights and hotels, rent cars, find guide tours, plan different activities, and others.
That's one of the main reasons the travel app market has gained popularity. Many companies find it quite attractive and beneficial to enter this segment. What's more, it works for both travel-related businesses and new players in this sphere. The core task is to bring a valuable product that delivers a great user experience and meets customer needs. 
Leveraging the travel app development services allows businesses to find new ways of building connections with customers, providing services, personalizing approaches, increasing loyalty, and making revenues. Discovering the question of how to build a travel app, teams have a chance to choose among a wide variety of solutions. Any app idea that can be helpful for booking and managing trips can be referred to and introduced to this category. Therefore, travel apps greatly vary in functionality, provided services, and business models. 
Careful observation of market tendencies could give teams new ideas and define ways how to build a travel app. The experience of popular travel brands like Tripadvisor, Expedia, and Booking.com shows the importance of introducing new solutions and their constant advancements. For example, TripAdvisor, with 96% of hotel offerings in 2012, now presents the following offerings: hotels, flights, car rentals, dining, travel activities, road trips, trip designer services, etc. 
At the same time, teams can build a travel app that focuses on specific products and services or implement unified solutions. Let's go through some popular categories of travel applications introduced in the market:
Flight booking apps – The efficient tool to find tickets, compare prices, get hot deals, and book flights.

Accommodation booking apps – The app category to provide accommodation offerings for travelers and partner with hosts globally. Besides the typical hotel offers, you can build a travel app for a certain group like couch surfers.

Transport apps – This application helps users to get around new cities by means of public transportation.

Travel guide apps – The effective tool to direct travelers to the destination and show nearby attractions and activities.

Travel planning apps – All-in-one travel solution enables users to buy flight tickets, book hotel rooms, plan the activities on a trip, etc. 

Virtual tour apps – The good option to offer new traveling experiences without users leaving home. 

Travel security apps – The solutions developed for providing safety and security information and emergency assistance on the go. 
As you can see, the travel app categories vary, but companies always have an opportunity to advance the existing approaches or choose totally new ones on how to build a travel app. So how to start app development for the travel industry? 
HOW TO START TRAVEL APP DEVELOPMENT?
Application development is an excellent opportunity to transform customer experience and put attractive propositions within the travel industry. According to Travel Insight with Google, 71% of сustomers use phones for traveling needs at least weekly. 
Therefore, travel app development should be considered as a perfect chance to build connections with customers and expand your business presence. The wide adoption of technology has greatly changed how businesses run and interact with customers. To find the answer to how to build a travel app, address the question of how you can advance travel experiences for your customers.
We've gathered some handy tips to consider when you start to create a travel app.
Come up with an app idea
The initial product ideas help to define the overall project requirements and needs. In order to start travel app development, companies conduct lots of planning and research. They need to define the target audience, learn their expectations and think about what to offer them within the future application. Also, it's important to check on other market competitors and how you can differentiate your travel app from others. How to simplify trip planning? How to offer better booking options? How to introduce new destinations? Therefore, it's possible to introduce new app types or find a way to advance the existing solutions for the travel industry. 
Make a strategy
The next step is transforming the goal into a clear strategy. In short, it's all about finding an efficient way to build a travel app. It's hard to streamline the development process without detailed documentation and app visualization. Besides providing the full description of app functionality, the team has to evolve the development plan, estimate the budget and timeline, define the app category, choose business models to partner with third-party providers, etc. Strategical decisions bring efficiency to the development process, target the right audience and increase app popularity among customers.
Choose the tech stack
The fact remains that even the best app idea won't stand without the proper tech implementation. The application success greatly depends on the chosen technologies. Make sure to select the up-to-date tech stack that not only meets the current needs but makes room for further improvements. The development of travel apps requires technologies for diverse functionalities and smooth integrations. Besides popular technologies for web and mobile development, the team might need to choose business-specific API integrations to get flight options (Travelopro, Skyscanner, Travex, and others), hotel booking (Expedia Affiliate Network API, ZUMATA Hotel Booking API, and others), weather forecasts (Weather Underground, OpenWeatherMap, and others), etc.
Set up a professional team 
The other aspect of how to build a travel app efficiently is related to the ability to form a professional team. Look for specialists proficient in required technologies who have first-hand experience creating web and mobile solutions. Poor qualification could influence team productivity, the development process, and product quality. Good specialists are known for great problem-solving, practical, and communication skills. They're open for discussions, focus on the product value, and look for workable solutions. To start travel app development, the company needs to set the team of the following specialists:
Project manager​

Business analyst​

UI/UX designer​s

Web developers

Mobile developers​

QA engineers
Building a travel app requires strategic planning and considerable effort, whereas every team always has alternatives for better product implementation. You can set up an in-house team of specialists or apply for the services of the travel app development company.
HOW TO BUILD A TRAVEL APP: KEY FEATURES
Travel apps are developed to bring better services for tourists and travelers. The important thing about how to build a travel app is to understand the absolute necessity to bring a great set of functionality. Besides the customer expectations, it should cover the interests of service providers and travel brands.
It's worth mentioning that travel applications tend to follow all the latest trends and deliver the best user experience. Due to the intense market competition, businesses keep advancing products with the latest approaches. The travel app category might be quite hard to compete in unless the team finds a way to differentiate the application and make it valuable to the market. 
Let's start with core features to create a travel app. Regardless of the chosen app type or business model, teams deliver a basic set for involved parties' needs. Including these features lays a good foundation for offering services referred to the travel industry with the possibility of extending when required.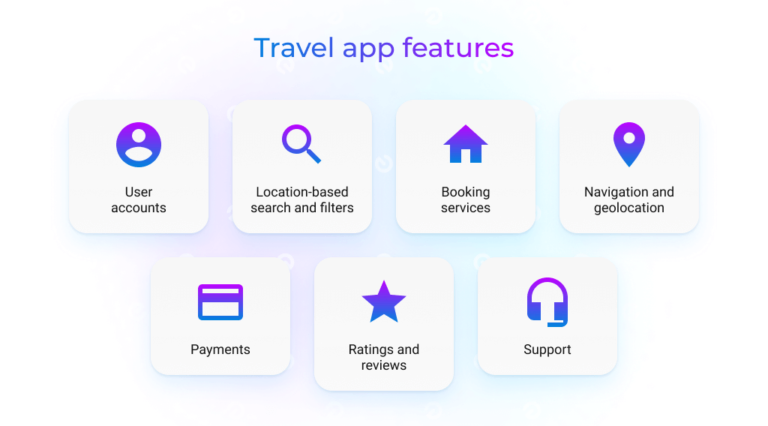 User accounts 
The feature to bring personalized approaches to the user experience. It allows customers to save POIs and activities, find info on booked services, create reminders, receive special deals, etc. Social media integration is helpful for fast signup and simple login and great for social media sharing of photos, videos, and other information.
Location-based search and filters
This must-have functionality is built to suggest travel-related services for customers. The search specification can be impressive, including offers for flights, hotels, cruises, car rentals, packages, restaurants, activities, etc. The main thing remains to make it location-based so the users find everything required in a few taps.
Booking services
The feature handles all the operations to make, confirm or cancel the booking. Travel apps offer bookings for more than one service specification. It includes accommodation, transport, event tickets, local guide services, etc. The team is responsible for choosing the best business and operational model to handle the process efficiently. Besides, it's important to make attractive offers leveraging loyalty programs, discounts, and hot deals.
Payments
Booking online can't be handled without the adoption of payment functionality. Moreover, travel apps often deal with international transactions and accept payments worldwide. It requires data protection and transaction delivery with PCI compliance. Payment getaway integration often becomes an efficient solution for mobile developers.
Navigation and geolocation
That is an efficient tool to support better customer engagement and offer additional services. For example, the travel guide app isn't actually workable without this feature. Once the users get to the destination, they use the application for navigation and routing options. It helps find tourist attractions, nearby restaurants, and hotels, coming events, etc. This feature implementation always covers adding new solutions and services within the travel app.
Ratings and reviews
The travelers' community recommendation is the perfect addition to the travel app. Customers value trusted information like ratings and reviews left by other users in addition to the provided content. It's the best promotion for services, destinations, and activities when others find them good and attractive.
Support
Like for any other application, the team has to implement the support functionality. Sometimes users might need help booking accommodations or tickets, finding the destination, checking better deals, etc. This feature is a perfect solution for getting assistance from the team anywhere and anytime. Also, it is often used to get consulted in emergency cases. 
As we've gone through the core features of the travel app, it's important to emphasize that teams use different approaches and keep on advancing the mentioned functionality. Their task is related to differentiating services from others and bringing smth extra to the audience. There is always room for improvement. Some teams on the current functionality advancement, whereas others try to develop ideas for new features to the travel market. The main thing is to evolve the strategy on how to build a travel app covering details on prioritized functionality for your business.
HOW TO CREATE A TRAVEL APP DESIGN?
Addressing how to build a travel app isn't possible without mentioning important design aspects. It's fair enough to refer travel apps to complex solutions with advanced functionality and various integrations. At the same time, the UI/UX designers take responsibility to present it to the audience most simply and clearly. 
What's more, travel apps are known for their impressive looks and seamless user experience. Many applications don't forget about the effect of entertainment. Of course, they include a description of services and activities and add entertainment elements like photos or videos of destinations the customer plans to visit. It involves leveraging the best market engagement strategies to attract more customers. It allows them to build connections with the audience and get them engaged with your brand. 
Booking a trip is more pleasant when the user experience is well-organized and entertaining. Visual elements help the customer to get a better vision of the future trip and advance the current user experience.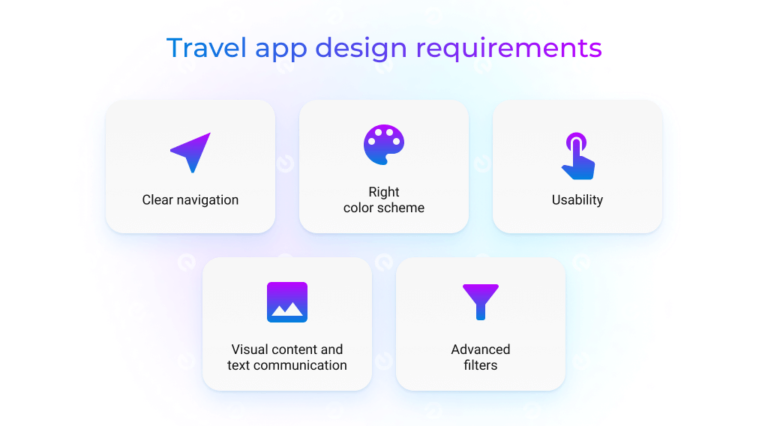 So let's consider some special requirements on a travel app design to differentiate it from others.
Clear navigation – Customers won't spend time searching; they need to get to the info, service, or product right away. It's important to understand different user scenarios, suggest the next steps, and place the necessary buttons at hand.

Filters – Travel applications include tons of service positions. So it's important that users don't get confused there. Filters are quite helpful as they suggest the relevant options for customers, including dates, availability, and price.

Visual and text content – Finding out how to build a travel app can't be done without mentioning the importance of in-app content. Everyone is looking for interesting, informative, and unique content. The team's task is to balance the visual elements and text and not overwhelm users with any of them.

Images and photos – It's hard to imagine a travel app without including images. Customers want to see pictures of the destination they travel to, the hotel room they stay or the restaurants they can eat out. Include good quality images, avoid stock photos, add real accommodation photos, etc.   

Colors – The right color combinations help share ideas with your customers, present the brand, and differentiate from others. It's a good practice that both the logo and colors present your business values. But remember to make a text legible, create some contrast, and fit other images within your app.

Usability – The customers look for a handy solution with efficiency and flexibility of use. It's required to eliminate anything that can overwhelm user experience. The minimalist design, great content, consistency standards work better to satisfy customers.
Knowing your audience and their needs always helps to build better user experiences. Finding how to create a travel app design is quite important. It contributes directly to how customers feel when they use your app.
HOW TO MONETIZE A TRAVEL APP?
Discovering how to build a travel app, all teams come to the point when they need to evolve the monetization strategy. It covers several business and marketing aspects to drive revenue from their apps. But the important thing is that the question of how to make money with a travel app should be addressed at the beginning of the development process. 
The good practices show that both technical and business aspects are covered in parallel. It means that great app functionality can give the idea for monetization, whereas chosen business models define the necessary features for travel apps.
In fact, choosing the travel segment often becomes a good revenue source for businesses. According to the statistics, the total segment revenue is expected to increase to $364 million in 2022, with constant growth in the next years. 
It's a known fact that the travel industry is going through a recovery. But at the same time, companies take the opportunity to bring it to the next level. The travel apps are changing the travelers' experience beyond all recognition.
Actually, the specification of travel applications brings so many business opportunities, including collaboration and partnerships. It's a good basis to attract customers and partners from all over the world. Let's take the most popular monetization approaches for travel apps:

Advertising model
It remains among the most popular monetization models. Exciting content, native display, and personalized approaches allow the team to provide a great user experience. It's about building an efficient strategy to get the customer to the services they look for. The important thing is that ads are fully integrated into the in-app content. This model is popular for travel apps used before planning or booking a trip. For instance, TripAdvisor collects services and products from different providers to compare offers and prices. It numbered its propositions at 2.3M accommodations, 1.4M travel activities, 500 airlines as of Q3 2021. The idea is that they lead to the booking page of the third-party provider, so the app earns through the cost-per-click model or charges the commission fees on the booked services. 
Commission model
The commission-based model is widely adopted for travel app development. Since the team decides to offer services from other providers like airlines, hotels, or travel agencies, the common practice is to charge the commission fees. It includes a certain percentage from each user's transaction via the app. That's the proven model, as the company gains a stable source of revenue. Moreover, they can continuously find new services and providers to be added to the app. Booking.com, the world-known online travel agency, has successfully applied this model for more than 20 years.
Merchant model
This monetization model also focuses on earning money from distributing services. The difference is that the travel brands buy services at wholesale and discount prices and later resell them to the customers. For example, the company can buy flights or hotel rooms in advance and increase prices due to rising demand. That requires considerable investments though it can bring more earnings. It enables teams to introduce loyalty programs with discounts and hot deals as they don't need to negotiate final rates with third-party service providers. Expedia is among the popular travel agencies to leverage the merchant model.
Travel apps offer a wide range of services and products, thus having various monetization options. The team can select any monetization model or combine several of them. It's always a great idea to collaborate and partner with others and create new monetization opportunities. The well-planned monetization strategy sees the advantages for businesses, attracts new partners, introduces affiliate programs, etc.
HOW MUCH DOES IT COST TO BUILD A TRAVEL APP?
Cost estimation remains among the basic requirements for software development regardless of the travel app specification. The thing is that it greatly helps to understand real needs and balance the budget accordingly. Answering how to build a travel app, we'll discuss some important aspects impacting the final cost. 
It's a fact that the app costs vary from project to project, and teams are looking for suitable development approaches at a reasonable cost. The team has to start defining the project scope and requirements to estimate expenses. 
Knowing needs and prioritizing the app functionality are the first steps to giving an accurate estimate. Including advanced features or complex integrations requires more effort and time for implementation, thus could increase development expenses. 
Besides, travel app development cost depends on the chosen tech stack and development approaches. The team has to decide on the type of application they want to build. For example, the choice to build a mobile application poses the question of whether they leverage hybrid or native mobile development. At present, hybrid technologies like Flutter or React enable to deliver the mobile apps twice faster to the market, supporting native performance at lower development costs.
The travel mobile app development often goes in parallel with web development. The web-based application is compatible with different platforms, including web, desktop, and mobile. Thus, it allows extending the user experience and reaching a larger audience.
It's important to remember that all aspects are interconnected and impact the final product cost. The hiring process of required specialists is another thing to mention. Travel app development cost also depends on the specialist expertise and experience, hourly rates, chosen engagement model (full-time engagement, freelancers, or outsourcing), etc. 
Therefore, the team has to conduct a comprehensive analysis covering every aspect of the development process and business requirements. Taking into consideration the core functionality of the travel app, we've estimated the duration for each development stage: 
Discovery – 6 weeks

UI/UX design – 6 weeks   

Web development and testing – 20 weeks    

Native mobile development and testing – 24 weeks  

Hybrid mobile development and testing – 16 weeks                

Launch, support, and updates – 2 weeks and continuing
Accordingly, you can check the received estimation on travel app development costs. Consider that provided calculations are made using the average Eastern European rates. 
Discovery – $15 000

UI/UX design – $20 000   

Web development and testing – $120 000   

Native mobile development and testing – $110 000  

Hybrid mobile development and testing – $70 000               

Launch, support, and updates – $10 000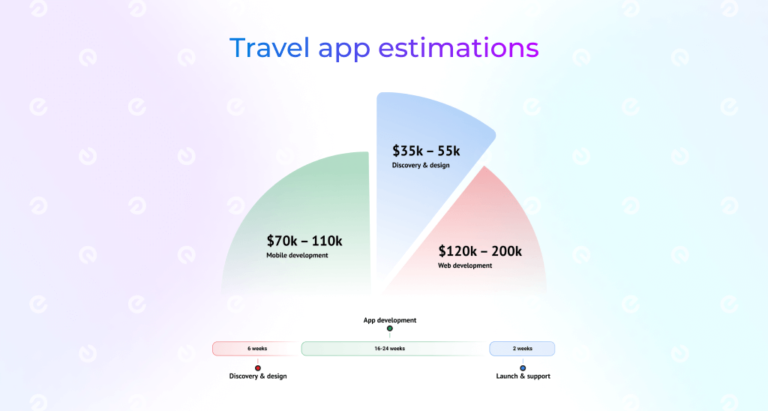 Consequently, the average cost to build a travel app could fluctuate between $115 000 and $270 000. 
IN CONCLUSION
It's always a good idea to start travel app development. Whether you're a travel-related business or a new player in this industry, there is always an opportunity to offer something new to the market. The travel segment embraces so many services and products, thus travel apps impress with their variety. Some focus attention on the quite specific user needs whereas others try to develop unified solutions to meet different needs. What's more, both of these approaches can be a key to the success of your travel application. 
We hope that this article can be used as a helpful guide to travel application development and has answered your questions on how to build a travel application.
Frequently asked questions
What are core travel app features?
Travel app functionality varies from project to project. Teams always have the possibility to advance the user experience with new features. Whereas the core set of the functionality remains almost the same. It includes:
User accounts

Location-based search and filters

Booking services

Navigation and geolocation

Payments

Rating and reviews

Support
How to build a travel app?
Regardless of the app type or functionality, the team always undergoes a similar development process. They could apply different approaches but the core stages remain the same:
Discovery

UI/UX design

Development & testing

Launch and maintenance
How to make money with a travel app?
Like with any other app category, travel applications can be transformed into a good source to drive revenue for your business. The well-organized monetization strategy helps to introduce efficient ways to earn money with a travel application. Advertisements, commission fees, the merchant model are among the good market practices.
How much does it cost to build a travel app?
The travel app cost depends on a number of factors like app complexity, implemented functionality, applied tech stack, team composition, engagement models, the development process efficiency, hourly rates, etc. The average cost of a travel application could start from $115 000.